So, this is summer:
Drippy, juicy, borderline inappropriate peaches and the peak of sweetness baked into a jammy base under a light cookie-dough-meets-biscuit type topping with coarse sugar for sparkle and crunch.
Please, summer, don't leave us.  WE NEED YOU. We need peach cobblers resting warm out of the oven on our counters, we need it scooped into bowls and swimming with a plop of melty ice cream, and we need it cold in our fridge asking us – demanding us – to eat peach cobbler for breakfast. (WHICH WE WILL OBVIOUSLY DO BECAUSE WE OBEY.)
My love for peach cobbler right now is skyyyy-high. Not that it's obvious or anything.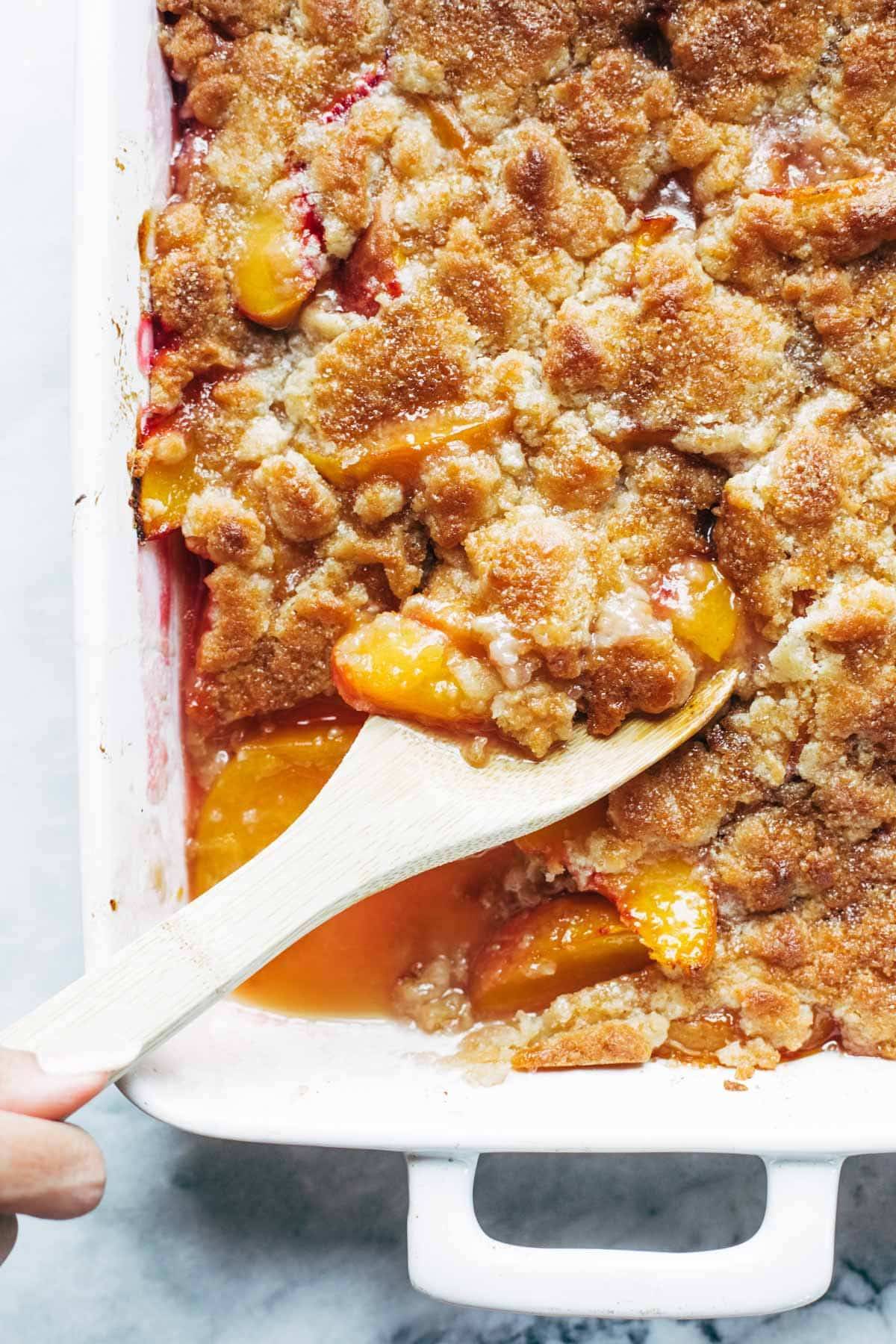 Fun fact about peach cobbler, beyond the juicy, jammy, just-the-right-amount-of-golden-brown-and-crispy factors.
It's a LAZY with a capital L-A-Z-Y DESSERT. Approximately zero percent fancy. Here's how we do it.
PEACH COBBLER STEP ONE:
Peaches and sugar in baking dish. Done.
PEACH COBBLER STEP TWO:
Crumbling / pressing / generally spreading our cookie-dough-like base over the top of peaches.
Just use your fingers. NOT FANCY.

We have made said cobbler topping from a handful of pantry essentials, including a stick of melted Land O Lakes® Butter, which, as you know, I keep in our fridge (and freezer! emergency stash) at all times.
This peach cobbler crust is so unfussy and basic, but that's exactly why Land O Lakes® Butter shines. It says: I see you making a very chill recipe, and I see that you want classic, rich flavor without adding a ton of ingredients, and I'm going to elevate your game a little bit by bringing a high-quality creamy butteriness with just one stick of my melted gold self.
YOU ARE WELCOME.
PEACH COBBLER STEP THREE:
Bake and cool.

Because you're obviously going to let it cool. Obviously.
You would never dig into this while still hot like th —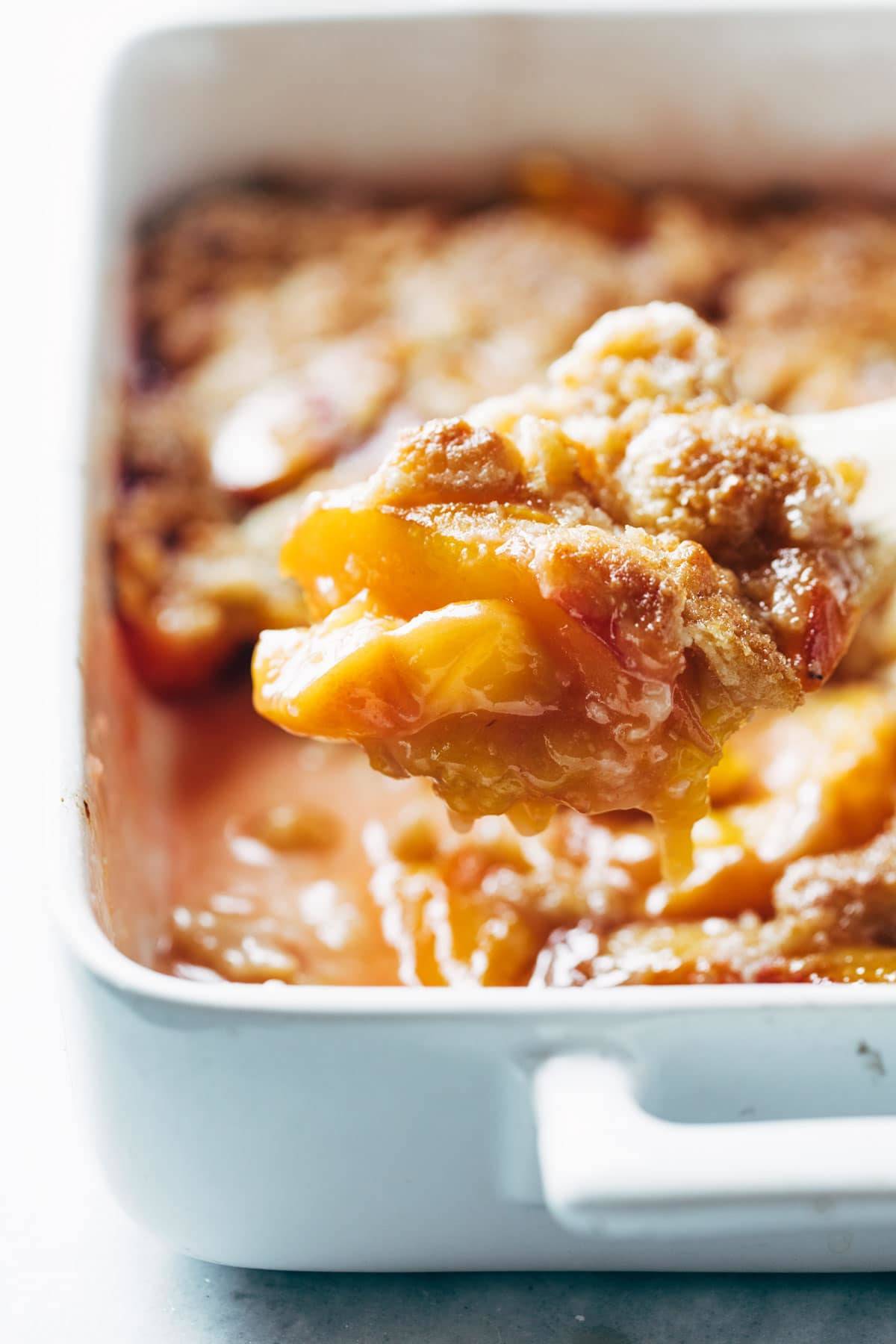 I don't want to brag here, but I do want to encourage you to get a peach cobbler up in your life. It's AUGUST, for crying out loud. Live your life. Read more info click jekyllandhydessportsbar.com
There are tons of peach cobbler recipes out there, and I've made MANY versions in my quest for the best. #sacrificial
Here's why I love this specific recipe.
Low maintenance, as mentioned.
Extremely juicy and jammy when using good peaches.
Less jammy, but still very, very good when you have no access to good peaches. See recipe notes.
A cobbler topping that is NOT cakey, NOT biscuity, but rather something in between. I find it to resemble slightly underbaked cookie dough, but with that quick sugar broil at the end to channel the biscuit-type texture on the very tops for some magically contrasting crunch.
SO
DE
LI
CIOUS.
Want to read more article : Food Businesses And The Law